My wife had a major back operation in July last year and part of her recuperation is to walk
slowly on the flat. So this morning we jumped in the car and drove from our house in La Nucia to the outskirts
of the Terra Mitica Theme Park near Benidorm. It takes 10 minutes.
The area around the park is extremely attractive and ideal for a slow stroll (as in our case), for jogging
or cycling as 10 years ago (year 2000) 10 kilometers of new avenues were constructed and landscaped.
There are wide coloured pavements (for walks) red lanes (for cycling), car parks, picnic areas and over 1,000
street lights of modern attractive designs.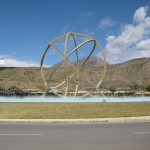 The roundabouts are truly breathtaking also. There are six (known as glorietas) which represent Earth, Fire, Water
Air, Gravity & Reason and when we have visitors it is fun for the grandchildren to work out which is which. We
passed Earth this morning which is pictured.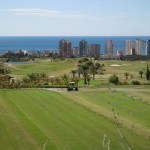 As we walk towards Alicante in the distance on our left is the 5 star Villaitana Hotel and Golf Complex overlooking
Benidorm.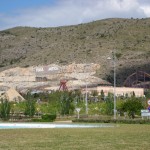 After a fifteen minute stroll and 5 minute rest we cross the road facing Terra Mitica and walk back to the car.
The theme park was opened in July 2000 and includes water rides, roller coasters, carousel swings and many more
for the very young, the timid and the more adventurous.
Holiday makers can reach the area where we walked by catching the 41 bus from Benidorm old town or, if you have one,
you can land your helicopter at the nearby Heliport!!
We stopped for coffee on the way home and, on reflection, had a lovely hour out in the fresh air - and what a difference to yesterday when we had to stay in to avoid a hailstorm!