Keeping Your Spanish Villa Warm
It isn't always warm when you live in Spain!
Yes the Summers are exquisite but the winters can be cold. The Spanish villas are built to keep the warm out and the cold in and the one thing that my parents aren't used too is living in a Villa with no central heating!
Yes they have their air conditioning units that keep the house cool in the Summer and warm in the winter but running these can be expensive and so my father has looked for ways in which to keep his Spanish villa warm and the following information is what he recommends.
Up until the winter of 2008 I used to search the woods in the foothills of the mountains near La Nucia on the Costa Blanca to collect broken branches from fallen trees - my source of
fuel for our wood burning fire.
Then on 24th January 2009 high winds brought down a pylon close by and the whole mountainside was lit
up - my supplies went up in smoke literally.
Shortly afterwards my wife saw an advert for a "BRIQUETTE MAKER" in a magazine. "That's the answer", she said,
"from now on you must make your own logs".
So that's what happened - I bought a BRIQUETTE MAKER and since then friends and neighbours have accumalated
newspapers for me and I now make my own logs. Here's how:
Crumple 32 sheets of newspaper (Daily Mail size) or 22 sheets (Daily Telegraph size) in a standard washing up
bowl and cover with water. Stir and leave for 24 hours.
Give the mixture another good stir effectively making papier mache and transfer to BRIQUETTE MAKER.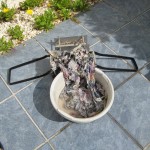 Press down hard on arms to extract water.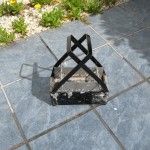 Turn over and release log.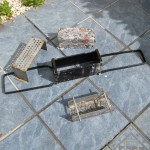 Dry in a warm place (easy to find in Spain but not so easy in Britain).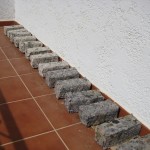 I told a friend of mine about the log maker so he bought one. But he told me later that living in South
Wales was not condusive to drying the logs so they were spread all around the house as close to radiators as possible!!
Each log burns for at least 2 hours and provides a clean, odour free flame.
My aim is to make at least 200 during the next few months to have a recession beating warm winter!
For more information about
Alicante
please refer to our home page.