Geraniums And Their Care
Another post from my dad!
There is nothing more visibly striking than deep red geraniums in full bloom against a bright white terrace wall.
In my experience I have found that a crop of geraniums will give a mass of strong colour throughout the year with a little care and attention.
Three aspects to bear in mind are: watering, feeding and the African geranium moth. Water sparingly over the growing season so that the soil or compost does not become too wet (or the plants will rot from bottom upwards). Feed a general fertilizer in pellet form which releases nutrients slowly over a long period. Spray with an appropriate insecticide every two weeks to keep away the geranium moth.
To propogate I find the best time to take cuttings is between February and May before the temperatures rise. I normally take 12/14 cuttings from the parent plants with a view to a success rate of 75%. Invariably 3 or 4 will not take for one reason or another.
Cuttings should be left to dry out for 3 or 4 days before potting. If possible dip the cut end in cigarette ash or ash from a wood fire as this stimulates root growth. Any flower buds should be removed because cuttings cannot make roots and flowers at the same time and, initially, it's the roots that are important!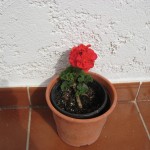 Cuttings potted in February should begin to flower mid-May.
Also beware hailstones because only last week we had a dramatic surprise hailstorm which devastated my plants - all the soft petals and leaves were just blasted away as if peppered by a shotgun! They are now in recovery.
You are not going to believe this but as I write (14th May) we have another hailstorm. What weather - when will it settle down!!