Moving to Spain - Real Life Experience
Has the thought of leaving your home country ever grabbed you and told you that you should be living it up in Spain?
Yes? Me too.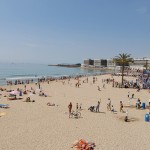 When I visit Alicante and the Costa Blanca I love it there.
I love the way of life, the countryside, the sea, the beaches….
in fact the whole way of life - I absolutely love it and I can see us moving to Spain in the future but not right now.  We  have however bought a property over in Alicante which is our holiday home and investment for the future but we  haven't gone as far as actually moving to Spain.
When I look at this picture, it is very tempting to just pack up and move over there but now is not the right time.
For a lot of people now is the right time and finding the right information about moving to Spain is very difficult. Where on earth do you start? There is so much information that you need to find out about before you can even decide if making this decision is the right one for you and your family.
You will need to know
Should you rent or buy a property?
If you buy a property how do you go about this?
Can you import your car to Spain?
What documentation do you need in order to move to Spain?
….and these questions are just the start. There are so many more questions to be asked and researched before you can possibly make your decision.
If you are interested in researching this further then you might want to read my parents moving to spain experience (a happy decision, by the way!). They have been in Spain now for approx 9 years and they are enjoying it immensley.
In fact I am extremely proud of them both. They have both learnt the language, accepted the culture, integrated completely and thrown themselves into their new life of retirement in the sunshine of Spain.
I managed to twist my fathers arm and get him to write about their experiences for my website and so if you are thinking of taking that step you will want to read all about their moving to Spain experience.
A Few Pictures to Help You Make Your decision!